Poland honors those who rescued Jews
Poland's president honors more than 50 people who saved Jews in Poland during Shoah, including German officer who helped pianist Wladyslaw Szpilman
Associated Press
Poland's president on Wednesday honored more than 50 people who saved Jews in Poland during the Nazi Holocaust, including the German officer who helped Wladyslaw Szpilman, the musician whose story was the basis of the film "The Pianist."
President Lech Kaczynski, who has long been an advocate of close relations with the Jewish community, clasped red-ribboned medals around the necks of 31 Poles who saved Jews during the World War II Nazi occupation. Twelve more people were honored but unable to attend, and 10 received an award posthumously, including the German officer.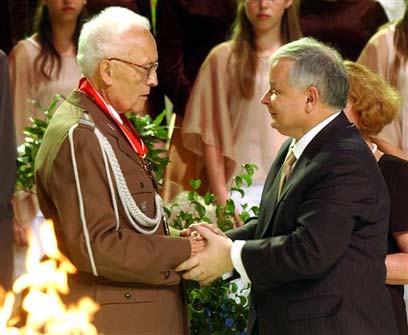 President Lech Kaczynski (right) handing medal (Photo: AP)
"In those days, to protect a Jew or person with Jewish roots was risking not only one's own life, but also one's family," Kaczynski said at a grand ceremony at Warsaw's National Opera House. "Those who saved Jews showed a special heroism, a special determination to protect others from the ultimate harm."
All of the Poles honored, many of whom walked gingerly with canes or were pushed in wheelchairs, have already received the "Righteous Among the Nations" award from Israel.
Kaczynski also presented the Commander's Cross to the daughter and son of Wilm Hosenfeld, a German officer who helped save the pianist Szpilman, whose survival Roman Polanski chronicled in his Oscar-winning film.
"It's a great honor for us that our father was honored by the Polish president and by Poland," said Jorinde Krejci-Hosenfeld, 75, who attended the ceremony with her brother Detlev Hosenfeld, 80.
"Our father really loved Poland and Warsaw," Krejci-Hosenfeld added. "He was very unhappy about what happened here in the name of the German people."
Krejci-Hosenfeld last saw her father in Hessen, Germany in May 1944 when she was 11 years old and her father had a three-day leave. Hosenfeld was later captured by the Soviets, and died in a Soviet camp in August 1952.
Israel's Yad Vashem Holocaust Memorial, which created the "Righteous Among the Nations" distinction as a way to honor people who saved Jews from the Holocaust, said it is considering awarding Hosenfeld with a "Righteous" medal.
More than 6,000 Poles have received the award.
Israel's ambassador to Poland, David Peleg, praised the recognition the Polish "Righteous" were receiving, and called them "a model of courage."
"For us, they are heroes, people with a role in both Polish and Israelis history books."